Abcdary
A
Acétate
It's one of André Gas' favorite materials, and he was one of the first to use it in jewelry. Acetate comes from the processing of cotton extracts or tree pulp, and offers endless possibilities, just like our savoir-faire. Shades are bright or velvety, slightly marbled or transparent... Acetate is an incredible playground that Gas Bijoux has been sublimating since the 1970s.
Artisans
Although the golden reflections illuminate our workshop, the artisans are our greatest asset. They have been part of Gas Bijoux since its creation. More than that, they are the heart of it. First, because André Gas is himself a proud craftsman. And also, because they are now more than 80 to contribute to the success of our Marseille workshop. Alongside André Gas, they perpetuate artisanal techniques on a daily basis, and even help them evolve towards the future. Together, this large family contributes to Gas Bijoux's signature, the 'chic solaire'.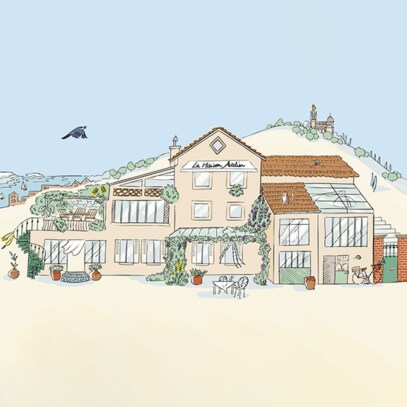 Atelier
It is on the heights of Marseille, in the historic workshop-house, that the Gas Bijoux spirit reigns most strongly. It is bathed in a wonderful light and it is full of life, as inspired as it is inspiring. In this beehive of creativity, different talents mingle on every floor with a common goal: to offer you jewelry born from the hands of craftsmen. And if further proof were needed of André Gas' involvement within this atelier (workshop), it is secretly whispered that it was built above his house...
B
Bain
Although Gas Bijoux is located on the Mediterranean coast, don't assume that we do everything with our feet in the water. Indeed, the bains (baths) mean that the jewels are soaked in tubs filled with a magical liquid which, through an electrolysis phenomenon, adorns the gold and silver pieces.
Broche
It is one of the jewels that is most dear to our hearts, precisely because it hangs closest to the heart. Gas Bijoux broches (brooches) are like a playground on which André Gas has always liked to express himself. They are called 'Mouche', 'Cigale' or 'Broche Bague' and are, for the most part, imagined as a unique piece. Maybe because they're meant to touch your heart.
C
Chic solaire
Sunshine is the very essence of Gas Bijoux, a golden emblem that has watched over the house since 1969. It is an endless source of inspiration that enlightens each of the creations and has given birth to the chic solaire (solar chic) ethos, the brand's signature and eternal vision.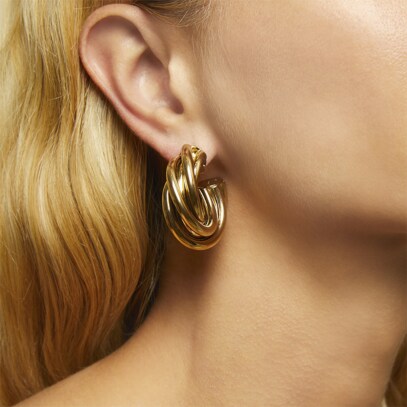 Clips
Gas Bijoux is meant for women, all of them. For this reason, as soon as it's technically feasible, we offer you the possibility to turn our earrings into clips (clip- ons). Solar chic is not only for pierced ears.
Couleur
'La couleur' (color) is one of the emblematic features of our brand. Whether it is mixed, intertwined, intermingled, plain, full or purified, color comes in all its forms and on all materials at Gas Bijoux. It's mainly thanks to our unique savoir-faire that our rainbow seems endless.
Cousu main
How can we better describe Gas Bijoux? Cousu Main (hand sewn) is a saying from Marseille that means 'made with great care', and that reflects the charming environment and the pleasant warmth of the South as well as the delicacy of each Gas Bijoux piece.
Créativité
Behind each jewel lies a creative impulse from André, Marie and Olivier Gas. This créativité (creativity) is often inspired by a trip, an encounter or a painting. André regularly goes travelling with his children to find some magical inspiration, thanks to the precious moments and quality time they all share together.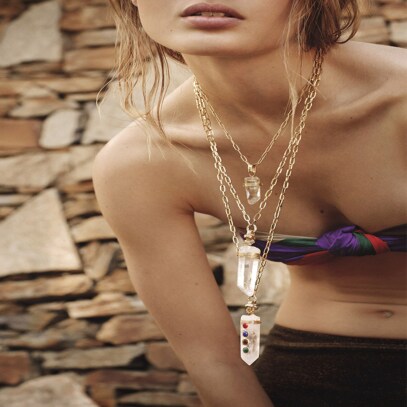 Cristal de roche
In the 80's, in the middle of the New Age, André Gas brought back real cristal de roche (rock crystals) from New York. He designed pendants with magical and esoteric properties evoking a wizard's wand. Each creation is tailored to the stone and, as such, is unique. These crystal rocks have been revisited for the 50th anniversary collection, the Reeditions. Here's a tip to know if it's a real crystal rock: put it on your cheek and you should feel an icy effect on your skin.
D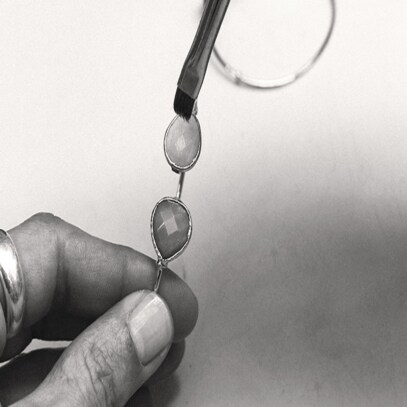 Détail
Attention to détail (detail) has become the brand's signature. Each Gas Bijoux creation requires more than thirty manufacturing steps, each detail conveying an emotion and telling a story. When asked how he would describe Gas Bijoux, André Gas often answers: 'little things that make a difference'.
Diva
No, André Gas does not think he is the Castafiore! Although you can often hear his melodious accent ring out in the workshop, the Diva is just one of his emblematic creations, easily recognizable by its intertwined arabesques and made since the 90s in all kinds of jewelry.
Dormeuse
At Gas Bijoux, we are always super busy. So why do we hear the word dormeuse (sleeper) all the time? Quite simply because this name refers to small hooks, which, once attached to the jewel, will be used to hang the earring on your earlobes, ladies! They are often opposed to 'rods'... And yet they have nothing against each other...
E
Email
Color, in all its forms, has always been our house's signature. And it becomes even brighter and more meaningful when it comes to émail (enamel). Indeed, if cold enameling seems like a fun coloring game for children, it is not! This technique requires a savoir-faire that our craftsmen develop a little more each day. With its interlaced, graded or graphically divided colors, our jewelry enamel draws a different kind of picture.
Emballer
Commonly speaking, emballer (to wrap) describes the act of conquering or seducing someone. At Gas Bijoux, it's kind of similar! Each craftsman, after having carefully chosen the wire's color and material, will wrap it delicately around the jewel. After that, the wrapping will seduce, fascinate, dazzle you or even bewitch the jewel.
Ensoleille moi
Luxurious and delicate, the eau de parfum "Ensoleille- Moi" is a true embodiment of summer. And by summer, we mean the desire for warm sand, the touch of a sensual poem, an ode to the blue sky, the imminent feeling of a distant departure. Ensoleille-Moi (Make Me Shine) is like an elegant Monoi oil. Better still, it is a real jewel. In the top notes the scent of pure tiare and the freshness of bergamot are intertwined. In the middle note, ylang-ylang and coconut scents unfold, delicately set on a silky base of vanilla and white musk. This fragrance reminds us that summer can perfume every season.
EPV
Gas Bijoux has been labeled an EPV (Living Heritage Company) since 2011. The brand's philosophy, which strives every day to preserve and develop a multitude of savoir-faire, is highlighted by our craftsmen.
F
Fait main
Each Gas jewel is fait main (hand-made), following precise processes based on the expertise of our craftsmen. The art of gesture and movement is unique and therefore precious to us. And while the workshop is overflowing with all kinds of tools, there are only 10 real machines in the hands of our craftsmen.
Famille
Gas Bijoux is an adventure, a team work, a family story based on three personalities: André, Marie and Olivier Gas. This famille (family) structure can be felt on every level of our company. Working at Gas Bijoux is a life experience filled with projects, ambitions, questions, but above all, it's the joy of creating a brand together for more than 50 years.
G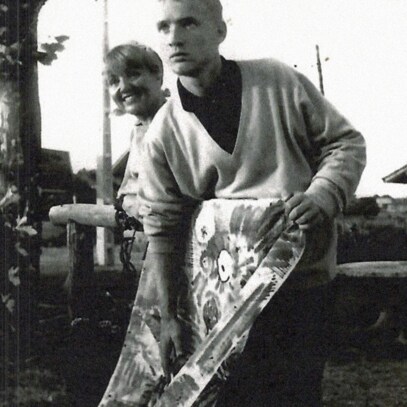 Gaga
This was the nickname of a young art student from Marseille in the mid-1960s. André aka Gaga for his classmates. In retrospect, it seems that this nickname already foreshadowed the personality of a bubbly, diligent and detail-oriented artist, with creative madness but who never takes himself seriously.
Galuchat
Since its creation, our house has been driven by the desire to explore rare and unknown territories. This is why, after working with leather, we decided to start working with galuchat (shagreen), that exotic fish skin that is so rare and delicate. A gem of nature.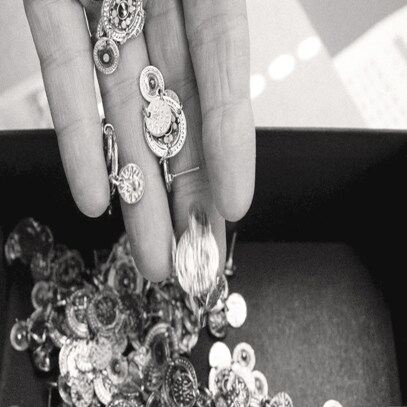 Gansailler
A cocktail straight from Marseille! Gansailler means to gather the jewels in a box after gluing, and to shake it energetically in order to check if the glued rhinestones hold well on their support. After that, they are good to go. Cheers!
Gri-Gri
André Gas' first creations were inspired by African gris-gris (lucky charms) that he had found during a trip to Dakar. As a pioneer, he enjoyed turning his talismans into new models such as charm bracelets. With these first jewels, André Gas started his journey to the mythical beaches of the French Riviera.
H
Humain
A family business, an artisanal production, a workshop-house where craftsmen have been working alongside André Gas for over 40 years.
I
Intemporel
Each Gas Bijoux piece is unique, but out of the hundreds of creations, some will live more than a thousand lives. The rebirth and renewal of our emblematic signatures are so strong that their forms seem intemporelles (timeless) and inexhaustible.
Intuition
Marketing study? Not really! Intuition is the first step in the creation process at Gas Bijoux, and it is one of the most important. Travel, materials, art, music, all our jewelry is inspired by daily discoveries and without constraints, we just need to be curious and believe in what we do.
L
Logo
Over the years, our logo has travelled through time, well-anchored on these 3 magic letters. Of course, it has adorned different outfits, different colors. It even took on Japanese fashion. It has grown bigger and thinner, just like its features. Nevertheless, the sun has always been part of its DNA. Our logo is like a promise of escape and sincere jewelry.
M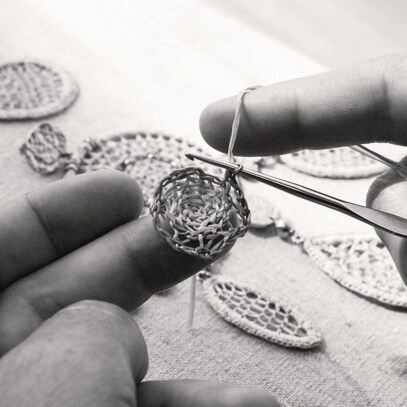 Macramé
Knots, knots and more knots. Macramé, an artisanal technique at Gas Bijoux, takes an exotic and sexy turn, especially when it is treated with raffia to create graphic treasures.
Marseille
The sweet Southern city of Marseille is home to Gas Bijoux. On the shores of the Mediterranean Sea, languages, countries and colors all mix together. Blue shades of the sea, pink earth, burning sun, all these sources of inspiration float in perfect symbiosis above the house's jewelry collections like a seamless thread.
Marteler
While our jewels are made for you, we like to give them some extra soul before they leave the workshop. So that they sparkle even more and display a tremendous vibrancy, they are for the most part delicately hammered by hand, one by one, on the heights of Marseille. This melody that animates the workshop makes them even more unique!
Matière
We often hear in the workshop that 'it all starts with the matière (material)'. Indeed, materials from all over the world have piled up on the heights of Marseille for 50 years: feathers, beads, cords, leather, resins, wood, shells, raffia...More than a medium, it is an incredible source of inspiration. It also pushes our craftsmen to always innovate and bring the material to a new level.
N
Nacre
Although our workshop loves to play with all the treasures from the sky and the earth, it does not overlook those offered by the sea. Thus, the incomparable reflections of nacre (mother-of-pearl) illuminate some of our pendants and earrings, like lucky charms from the ocean. Between the sea and Gas Bijoux, there is truly a sacred bond.
New York
Yet far from the hills of Marseille, this is a place very dear to Gas Bijoux and its founder. New York, this cosmopolitan city with its multiple cultures, conceals many treasures and an incredible vibe that truly inspire the Gas Bijoux collections. André and Marie Gas' annual trips to New York are unforgettable moments and a unique rendez-vous during which they usually make the flea markets their first stop.
O
Or
L'or (gold), one of the most beautiful natural resources, offers fascination and enchantment. Obviously, it is the favorite finish for our jewelry, the most beautiful highlight for our creations. We are used to covering our jewels with a 24-carat gown.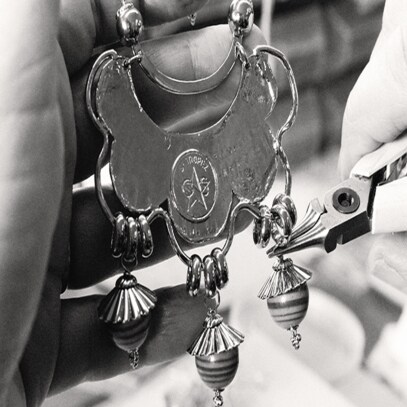 Outils
Pliers, files, hammers, bouterolles, fine saws, pègues, stamping dies, hand pieces and so many more...Gas Bijoux's workshop outils (tools) are almost as numerous as the creations and are an integral part of the decor. Each craftsman has his fetish tools, full of history, and they are often invented by the person who uses them.
P
Pampilles
Twirling, sparkling, dancing...Each pampille (tassel) created by Gas Bijoux has something unique. Color, length, material, weight...Nothing is neglected to offer you a jewel that looks like no other. They are the symbol of our brand's philosophy, completing our creations with grace and melody. The elegance of craftsmanship, to the very last detail.
Passementerie
This is a new dimension in which our workshop decided to dive into a few years ago. And it is clear that the marriage of braided silk cords and gold brings chic to its climax.
Pègue
Anyone who has ever set foot in a workshop in Marseille cannot know what this strange word describes. The pègue is a 'home-made' tool that most of our craftsmen use to place the elements on the jewels with precision. And like any tool, despite its apparent simplicity, it requires some time to learn how to use it!
Perçage
He can' t help it... Even when a beautiful gemstone comes straight from Jaipur, André Gas likes to add his personal touch to it. Indeed, they are often pierced to add a decorative element. And when they are, the craftsmen use the water piercing technique to prevent the stone from exploding.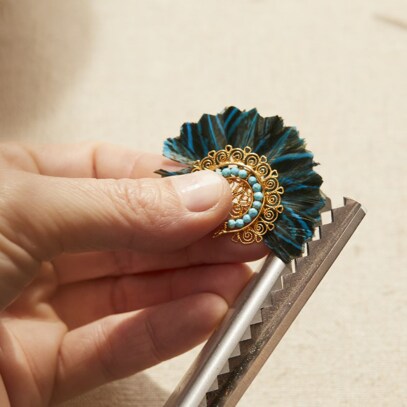 Plumasserie
'Feather is the language of art'. This quote from Miguel De Cervantes perfectly sums up how Gas Bijoux has been working and redesigning this noble material for years. Flying with the southern wind and tickling the sun, goose, rooster or pheasant feathers, provided by animal-friendly suppliers, come back to life in the magical hands of our plumasserie (feather) experts.
Poinçonnage
While photo-cutting allows to create precise patterns on metals, there is nothing more moving than to wear a jewel made by someone's hand. This is why our craftsmen work hard, step by step, hammer stroke after hammer stroke, to engrave our earrings. It is as if they were writing a poem to you, in their own way...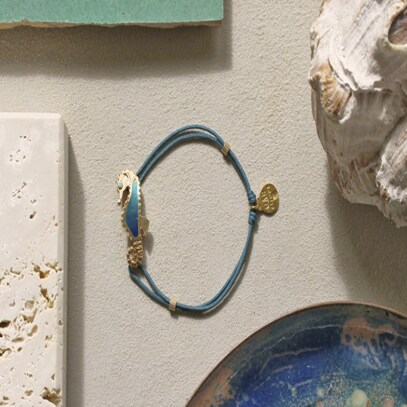 Porte-bonheur
Les porte-bonheur (lucky charms) have marked the history of Gas Bijoux, and it may be the result of their power if these 50 years of creation are flowing like a dream. Link bracelets are souvenirs that you bring back from a vacation or that you give to someone special, as though to look after them. It is when you tighten your slip knots that you must make a wish, before letting the magic happen!
Q
Queue de cochon
This name may seem totally inappropriate in the jewelry world, and yet, ladies, you are probably covered in queues de cochon (pig tails) without knowing it! This process enables us to make chains or to attach tassels and pearls to them. The craftsman wraps a nail around its stem to form a loop.
R
Raphia
André and Marie often bring back inspirations and new savoir-faire from their travels. In Madagascar, they were impressed by the use of a magical material, raphia (raffia), by the local craftsmen. This is how this material started to flirt with some of our emblematic creations to give them an irresistible wild twist.
Rocaille
The origins of Gas Bijoux lie in a rock, where the workshop was dug. Each of our creations pays tribute to this raw and delicate nature. Indeed, we mix rocaille (rock) pearls to try and find the magical nuances provided by the earth.
Royal
First there was Lady Diana, who wore a pair of earrings designed by André Gas in 1985. More than three decades later, in January 2019, it was Meghan Markle's turn, aka the Duchess of Sussex, to wear our Onde earrings during an official visit to Morocco. A great reward for our workshop, kingdom of craftsmanship.
S
Sable d'Ambre
You will get captivated by the very first notes of our intense Sable d'Ambre (Amber Sand), like a bath of warmth and voluptuousness. It recalls the memory of a sunset, a beach with shades of ocher and luminous amber. The end of a day spent on the sand, the twilight of a sensual night. It is one of the three fragrances to join Ensoleille-Moi in the house's olfactory signatures in 2020.
Sacs
The talent of the Gas family and of our workshop also consists in being able to bring our savoir-faire to other fields than jewelry. Belts, hair combs, but also a collection of hand-woven raffia sacs (bags) adorned with Gas Bijoux elements, announcing each year to our customers the imminent arrival of summer!
Saint-Tropez
Saint Tropez is a mythical city whose name evokes warmth, monoï oil, champagne, legendary actresses, emblematic creators, azure colors reflecting the boats...It is also in Saint-Tropez, on the road along the coast, that André Gas sold his first creations, during summer 1969, before opening his first boutique. Since that time, Gas Bijoux and Saint-Tropez have never left each other.
Scapulaire
For once, it's your turn to work! For a few years now, we have been offering you the possibility to create a jewel that perfectly suits you with our Scapulaire (Scapular) necklace. You are asked to choose the chain and the two stones that adorn it. But your mission is not over. You will also have to pick a way of wearing it: long, double, separate...God, it feels good to rest a bit!
Scaramouche
It's the oldest lucky charm in the world that Gas Bijoux has chosen as the symbol of its bestiary. As seasons go by, our Scaramouche (Beetle-fly) adorns new shells but every time, it's in the hands of our enamel craftsmen that it gets its new colors.
Sea Mimosa
'Sea Mimosa', the new fragrance from Gas Bijoux, was born on the hills of the Riviera, where mimosas are called 'winter sun'. In February, they offer a spectacular show. This perfume captures the essence of this magical moment, where their scent blends with the sea breeze from the Mediterranean Sea. Breathe in and let yourself be guided by this intense aromatic fragrance with a musky and delicately salty base.
Soudure
An idea...then a drawing... then a hunt in the many treasure drawers of the workshop to find what we had in mind. And this is how, during this crucial stage, that our idea finally sees the light of day. Our greatest asset is to have, in the very heart of our workshop, welding stations and their magical craftsmen to give life to our wildest desires almost instantly.
Summer 69
No need to dig very far to find out what this new perfume refers to...Faithful to the solar chic, the brand's everlasting DNA, 'Summer 69' is an intense and addictive fragrance that commemorates Gas Bijoux's year of creation. It opens with a bouquet of white flowers before the intoxicating vanilla becomes more and more intense. A perfume that perfectly illustrates the jewels that André Gas presented that summer on the beaches of Saint-Tropez: addictive!
T
Taxi
Hey, Taxi! When we talk about Taxi on the heights of Marseille, we don't refer to the movie shot in the same city. Actually, Taxi is one of the biggest successes of Gas Bijoux in the 2000s: a bracelet with big beads and different tassels and pompoms, made in line with the moods of our founder. He even gave their name to the floor of the workshop where they were made. So if you hear that André Gas is at the Taxis, don't think he's leaving!
Tonneaux
The workshop's tonneaux (barrels) are often open. Don't think that our craftsmen are looking for that 'head-turning' thing called wine! The barrels are actually filled with pieces of wood or metal beads, to give a proper welcome to the jewels that need to be rejuvenated or, vice-versa, to be polished. For instance, this is how silver, which is whitish when raw, takes on its famous glazed reflections.
Transmission
Gas Bijoux is like a musical composition, constantly being enriched by an orchestra that has been developing in a continuous movement for years. Its heritage conveys an overflowing creative desire that inspires to pass on a legacy over generations. There are very few workshops where a father and a son work on the same desk. We are proud to be part of it.
W
Wave
It all started as an inspiration from Africa, where women stack several golden circles around their neck, then it became one of Gas Bijoux's most emblematic collections. All the jewels from the Wave collection are shaped and hammered by hand in our workshop, which gives them a unique patina and reflections.
Z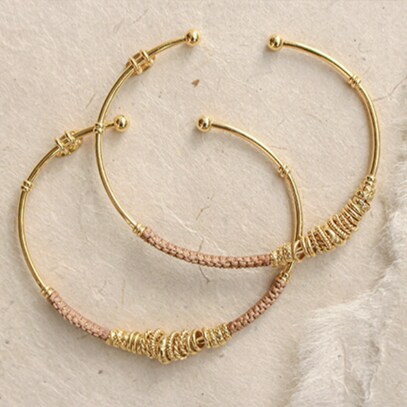 Zizanie
Our workshop may be Marseillais at heart, alive and vibrant, but it does not mean that zizanie (mischief) prevails! Zizanie is simply the name of our new must-haves, fine bangles hand-wrapped in cotton threads and sublimated with vintage rings. The quintessential Gas Bijoux style.